OZ-EE60G Enamel Ozone Generator Tube for Water Treatment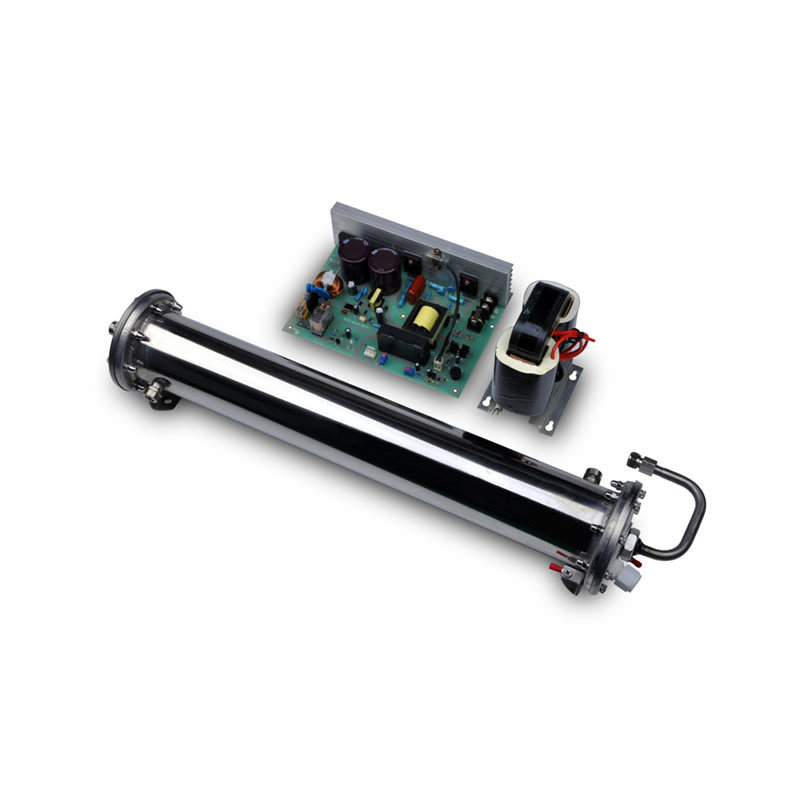 Model: OZ-EE60G High ozone concentration enamel ozone generator tube for drinking water.
1. Electrodes:
Use enamel coating as internal electrode, stainless steel as external electrode, capacity of corona resistance and machinery anti-force capacity are stronger than glass, ceramic material. Uniformity air gap between enamel coating internal electrode and stainless stee l external electrode, it produces high concentration ozone output. It uses insulation materials for connections, for preventing creepage.
2. Cooling way
Water cooled for internal & external electrodes, effective prevent high temperature rising when the tube is discharging, for ensuring high ozone concentration output.
3. Adjustable ozone output: 20-100%.
Use high-frequency & Intelligent power supply inverse system, ozone output can be changed on demand to achieve accuracy control.
4. High ozone concentration & output
Item

Unit

OZ-EE18G

OZ-EE30G

OZ-EE40G

OZ-EE60G

OZ-EE80G

Oxygen flow rate

LPM

1-4

2-8

3-10

5-17

8-20

Ozone concentration

Mg/L

112-78

123-72

123-70

120-72

118-74

Ozone output

G/Hr

6.7-18.7

14.8-34.6

22.1-42

36-73

56-88

Power

Kw

0.22

0.3

0.4

0.52

0.68

Output frequency

KHz

5.8-2.9

High voltage output

KV

3-4.5

Cooling method

Water cooling for internal & external electrodes

Cooling water flow rate

LPM

18

30

Cooling water temperature

℃

35

Fitting size

mm

1.Air inlet & ozone outlet: EDφ8mm

2.Cooling water: EDφ10mm

Adjustable range

%

20-100

Power supply

V/Hz

110/220V 50/60HZ

Ozone tube dimension

mm

250×105×125

310×105×125

430×105×125

575×105×125

778×105×125

Mounting hole foot print of ozone tube

mm

127×44(φ5)

195×44(φ5)

320×44(φ5)

450×44(φ5)

555×44(φ5)

Power supply dimension

mm

162×132×100

162×132×100

198×182×120

198×182×120

248×214×140

Mounting hole foot print of power supply

mm

155×127

155×127

192×177

192×177

243×208

Ozone tube weight

Kg

2.50

3.00

3.60

4.90

5.45

Power supply weight

Kg

1

2.4